Episodes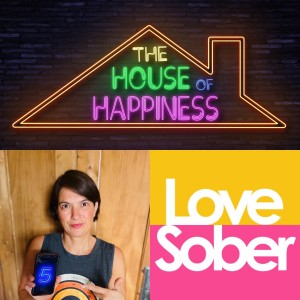 Friday Sep 09, 2022
Friday Sep 09, 2022
This week Kate talks to DJ Barroness and co-founder of The House of Happiness, Emma Barron.  Emma has been DJing for roughly 4 years now. She is also a TV producer for C4. Emma always had a major interest in music and was a drummer in various bands, grew up on the clubbing scene in Manchester in the 90's and then London. She also spent many summers in Ibiza - so both old school house and Balearic sounds have influenced her music style today.  
After getting sober in 2017 Emma decided that she wanted to follow her  passion so bought some decks, booked a DJ course at Hub16 in Dalston to hone her skills and then got involved in some sober DJ events. She has  played gigs at various venues including House of Barnabus, Fugitive Bar Bethnal Green and more recently Ministry of Sound Members bar. One of her first gigs was doing warm up for Brandon Block on a boat party.
She shares the joy and connection of learning to party sober and finder her way back to her first love of music. 
London's House of Happiness first event is just a few weeks away on  Saturday 8th September 12 noon - 5pm. 
Grab a cuppa and let's chat.
Love Kate x 
DEETS 🥳👇👇👇👇
Bringing you a FRESH & NEW ALCOHOL & DRUG FREE CLUBBING EXPERIENCE, The House of Happiness is swinging open its doors for the first time to serve banging tunes, a buzzing time and all the highs without the loooows.
Whether you've given up alcohol for good, or just taking a booze snooze but still LUUUURVE to PARTY & DANCE... ... THIS. EVENT. IS. FOR. YOU.
The roof we'll be raising for our first event is that of the ICONIC venue ELECTROWERKZ - one of London's coolest, most inclusive & alternative venues.