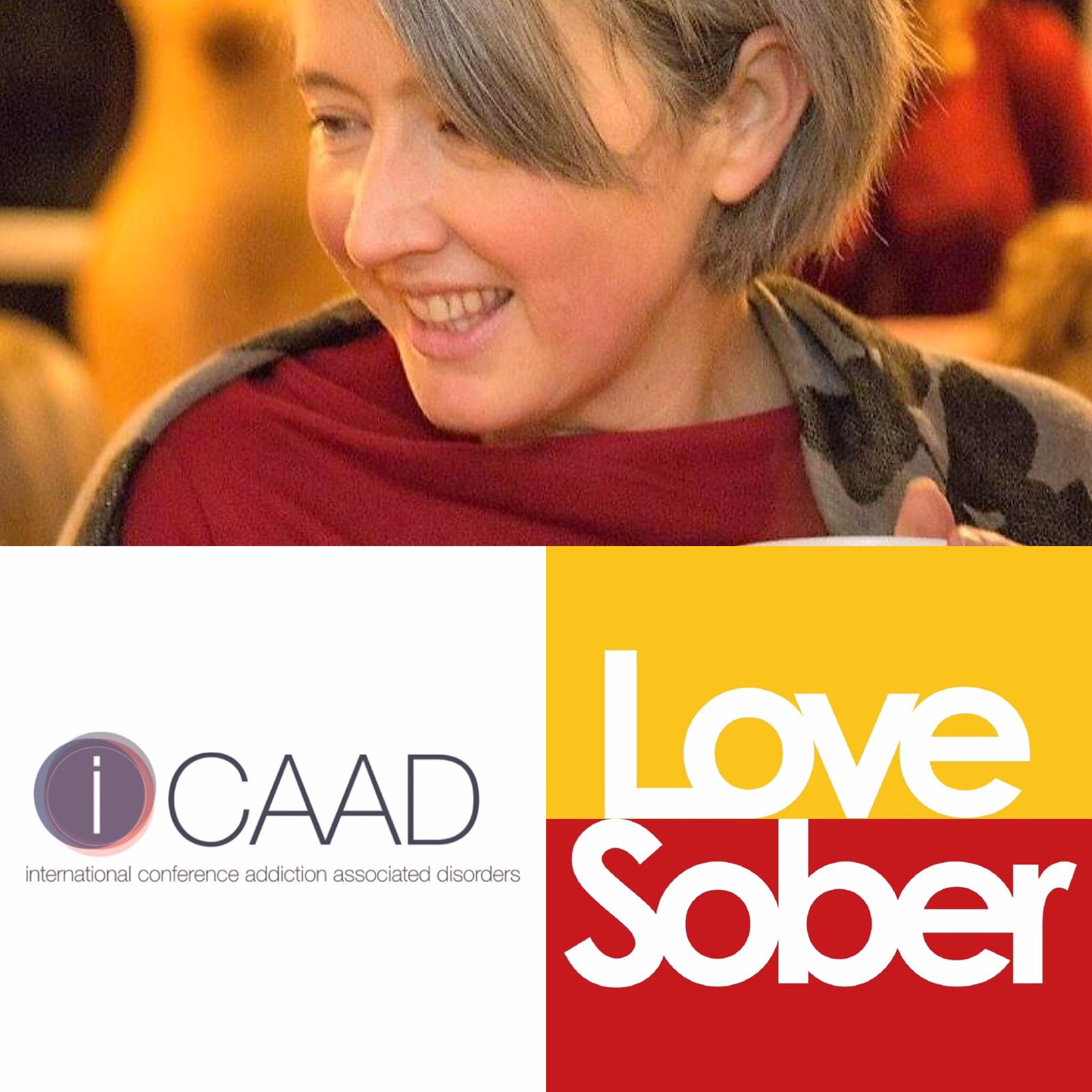 This week on the pod we are delighted to welcome Sam Quinlan, Founder of ICAAD. Sam is a real sobershero having worked in the field of mental health, addiction and recovery for many years.
Samantha once dreamed of being a performer; however a un-nurturing culture back in the 80s saw her being stigmatised as fat, and unsuitable to be a performer, after a performing arts school misused her vocal abilities, and she suffered from overused vocal cords, that ruined her voice and prospective career in musical theatre.
She went on to train at the Royal Academy of Dramatic Arts in production and stage management, and In the 1990s she began her mission to provide for others a nourishing and safe environment for creatives and those that had something to say, unlike her experience which left her full of shame and the burden of failure. Samantha founded the Brighton & Hove Fringe Festival, a yearly festival promoting talent and desire through arts, sports and outreach activities to include families and young people, reaching a wide audience and increasing the tourist footprint of the city. The festival is a leading event in the cultural calendar.
In 2001 after fighting her demons she acknowledged she was an alcoholic and sought treatment and has for the last 16 years been sober and drug-free and an active member of Alcoholics Anonymous. Samantha Quinlan has worked in the Behavioural Mental and Emotional Health sector for 15 years and is a founder of iCAAD. The International Conferences for Addiction and Associated Disorders, she programmes and directs conferences for professionals and the general public across Europe and the UK.
Samantha founded the Leading Equine Assisted Psychotherapy (LEAP) charity, alongside starting a residential addictions facility in 2003. She completed a foundation degree in general counselling in 2012. She is also a qualified facilitator of Equine Therapy. She has devised and delivered programs for vulnerable adults and young people, adolescents with extreme childhood trauma, workplace leadership and solutions and adults with learning disabilities.
Sam is committed to her personal development and leadership skills and regularly attends conferences and intensive courses, including the LCP at ONSITE workshops.
She sits as co-chair on the UFENow ethics committee as the co-chair to the "International Collaborative Committee (Cultural, Migration and International Ethical Issues)" and she is on the fundraising committee of International Animal Rescue.
In 2008 Samantha became a live kidney donor and today is happy to report the father to her children is alive and healthy, she believes this is nothing short of a miracle considering her history as an alcoholic and feels blessed that she has been able to be of services for the greater good.
Over the years Samantha has in her own time and as a volunteer, helped support 100s of people some referred to sober support, some treatment and others to therapists across all Behavioural Mental and Emotional health care issues. She reflects that when she needed help, she felt she was one of a lucky few and was able to access help without charge or bias, so today she strives to connect those in need to the right help or to signpost them to organisations that can help.
Samantha believes that many people in the UK do not know where they can go to get help and support but is hugely in favour of the sober movement and the stamping out of stigma she tries through iCAAD to offer clear signposts for those that are displaced, or struggling or isolated, and she hopes that through her work and iCAAD, that families and professionals may learn about and get the help they need. She would love for more of the general public to attend iCAAD x
In her spare time, she likes to build theatre sets and would one day love to perform again!
Sam would like to offer these  words of encouragement with other women in the world?
When the whole world looks dark and those around you can not find a good word to say about you, when their cruel words keep on digging deeper under your skin and when no one can see you are crumbling and screaming inside. Turn around and start walking, keep on walking until you face someone and say can you help me, and if at first you don't get heard, don't give up, keep on asking for help; eventually, you will be heard and held. I promise x
This episode is an absolute gem and we really encourage you to check out the amazing resources, blogs and conferences at www.icaad.com and Kate and Mandy will be presenting at ICAAD London, we would love to see you there, so grab a cuppa and let's chat.