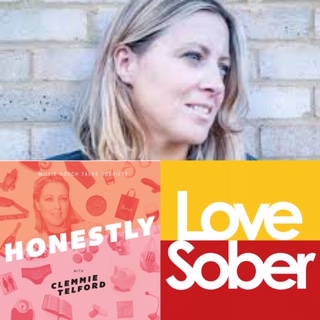 This week on the pod we are joined by Clemmie Telford. Clemmie is the creator of Mother of all Lists and the brilliant Honestly Podcast. She is a creative director and event organiser. Clemmie is also a mum of three and shares her honest portrayal of  motherhood through her very popular instagram account. Clemmie suffers from Anxiety and made the decision to go sober based on her mental health journey and has been amazed at how positive breaking up with booze has been on her wellbeing. 
It was great to talk to Clemmie about her decision to go sober, her relationship with alcohol and motherhood. As her background is as a creative, working in marketing and advertising it was also interesting to hear her thoughts on the insta mum influence and mummy wine time. Clemmie credits her podcast recording with Millie of @sobergirlsociety and meeting @soberdave1 at @bryonygordon book launch for fostering her sober curiousity and giving her the spark to want to try it herself -  So it goes to show, being visual - sharing your story works in helping people make their own decisions about alcohol and whether it is right for them. We had a great time with Clemmie, so grab a cuppa and lets chat. M x 
You can find Clemmie at:
If you are looking for support for an alcohol free life visit our website www.lovesober.com 
You can: 
Join our online community LOVE SOBER LIFE, where you can benefit from peer support and discussions on sobriety & personal development, participate in virtual weekly meetings and sober powerball webinars.
Sign up to our monthly NEWSLETTER.
Book to join our workshop EVENTS.
Kickstart your sobriety with our 30 DAY COURSE.
Book a discovery COACHING call with Kate who is an accredited Mindset, Wellness & Sobriety Coach.
If you have any other questions or enquiries don't hesitate to contact us: info@lovesober.com